Combustion pressure sensors that concentrate the technology of the Citizen Group
The combustion sensors concentrate the Citizen Group's piezoelectric crystal, ceramic and metalworking technology along with the technology to mass produce compact precision components.
In addition to the conventional development applications, they can be installed in the internal combustion engines of mass production vehicles to improve compliance with environmental regulations and fuel economy.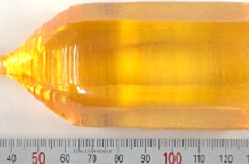 In-house development of "langasite-type crystal" piezoelectric elements
Langasite-type crystals, which are able to demonstrate their piezoelectric element performance even in high-temperature environments, are adopted. Drawing on our experience as a crystal manufacturer, we handle everything from growing crystals to processing them in-house.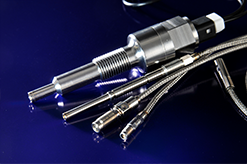 Integrated production using equipment and technologies built up in the Citizen Group
We apply the technology for mass production of small precision parts, in which we can boast accuracy in micron units, built up in watch manufacture. Along with that we have established in-house manufacture/integrated production of key components including elements.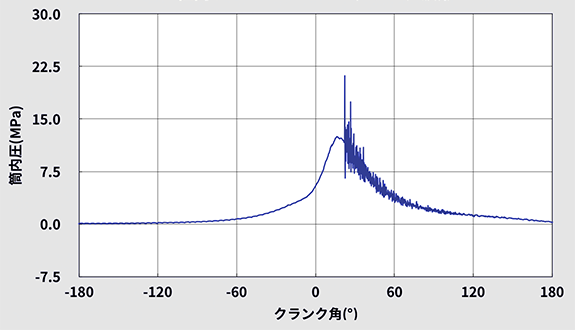 Measurement of knocking also possible
High pressure-resistant and high-performance sensors are realized by adopting crystals with high heat resistance and applying watch manufacturing technology. They are of course used for measuring knocking, and also for applications including ignition timing control.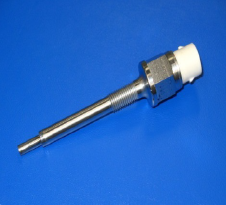 Installation in mass production vehicles achieved!!
Using our unique sensor structure ensures high durability. Their installation in mass production vehicles has been achieved by establishing mass production technology for them.Measuring the pressure inside constantly changing cylinders helps realize the optimum combustion conditions.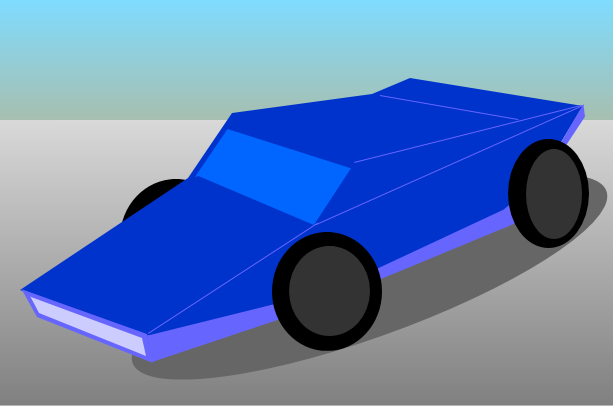 Installable in High performance Vehicles
Due to their high durability and performance, these sensors can be used in development (test bench) situations such as for High power engine and supercharged engines, and for installation in actual vehicles. They maximize engine performance.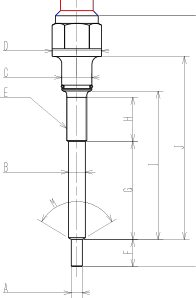 For automotive
| | |
| --- | --- |
| Type | CAS-30 |
| Measuring range(MPa) | 0~25 |
| Sensitivity (pC/MPa) | – |
| Linearity(%FSO) | ≦±1.0 |
| Natural frequency(KHz) | >140 |
| Insulation resistance(?) | ≧1013 |
| Operating range(℃) | ~350℃ |
| Cable connection(mm) | M8×1 |
| Cooling | Non-cooling |
| Cable | Low noise cable for exclusive use |
※Accuracy is different depending on the installation method.
※Please inquire the method of connecting the sensor and the connector.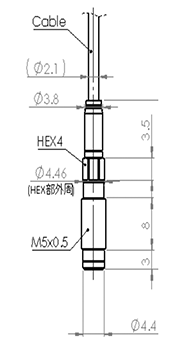 For Supercharging engine、High power Engine
Type
MCX02
MCX03
Use application
High output and supercharged engine etc.
Measuring range(MPa)
0∼80MPa(0~800bar)
0∼40MPa(0~400bar)
Sensitivity (pC/MPa)
-13pC/bar
-15pC/bar
Linearity(%FSO))
≦±0.5%FSO
Natural frequency(KHz)
>110KHz
>120KHz
Insulation resistance(?)
≧10¹³
Operating range(℃)
-40∼400(℃)
Thermal shock error
≦±1.0bar
≦±0.5bar
Mounting dimensions(mm)
Standard size:M5×0.5、HEX:4(mm)
Cooling
Non-cooling
Mounting torque
1.5Nm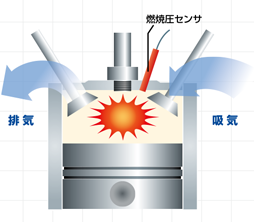 Basic specifications sensors for general measurement
Type
CAS-04
CAS-05
CAS-14
CAS-15S
CAS-15K
CAS-16
CAS-17
CAS-19
CAS-23
Use Application
Measurement
Water-cooled engines
Ship / generator
High durability
Heat sink mounting
Measurement
Measurement
Measurement use /
Large-sized
Measurement use
The plug insertion is possible
Super extra-fine /
Combined with Adapters
Very small screw type /
Combined with Adapters
Measuring range(Mpa)
0~25
Sensitivity(pc/bar)
-28
-22
-4.5
-22
-13.5
-27
-19
-10
-10
Linearity(%FSO)
≦±0.7
≦±0.5
≦±1.0
≦±0.5
≦±0.7
Natural Frequency(KHz)
>140
Insulation resistance(Ω)
≧10¹³
Operating range(℃)
~350
Cable connection(mm)
M7
M5×0.5
M3.5×0.35
Cooling
Non-cooling
Cable
Low noise cable for exclusive use